495 Express Lanes Northern Extension (NEXT)
The express version
The 495 Express Lanes will be extended 2 miles north toward the American Legion Bridge and provide new connections to the Dulles Toll Road and George Washington Memorial Parkway
You can learn how learn more about procurement for the project on this page
Project NEXT (Project) is a 2.0-mile extension of the 495 HOV/HOT Lanes (Express Lanes) in Fairfax County, Virginia.  As shown in Figure 1 below, the Project will extend along Interstate 495 (I-495) from the current northern terminus of the 495 Express Lanes near Lewinsville Road, Route 694, to the vicinity of the George Washington Parkway.  I-495 currently operates with four general-purpose lanes in each direction along the Project corridor.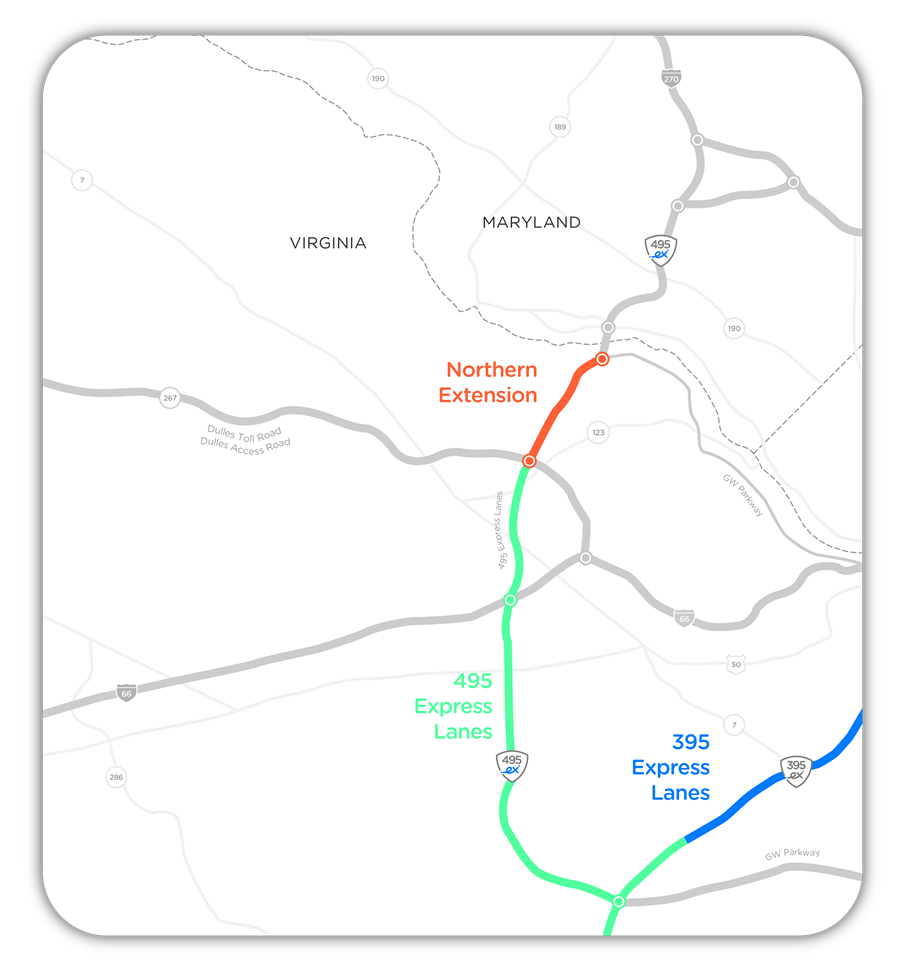 The scope of the project includes the design and construction of the following:
2.0 miles of new two-lane Express Lanes in each direction (with full shoulders) from the existing northern terminus near Lewinsville Road (Route 694) to the vicinity of George Washington Parkway.
Northbound 495 GP Auxiliary Lane between Dulles Toll Road (DTR) and Georgetown Pike (Route 193)
New Express Lanes access points with adequate merge lengths as follows (at-grade Express Lanes access points other than those stated below are prohibited):

Dulles Toll Road EB to 495 Express Lanes NB
Dulles Toll Road EB to 495 Express Lanes SB
Dulles Toll Road WB to 495 Express Lanes NB
GW Parkway WB to 495 Express Lanes SB
495 Express Lanes NB to GW Parkway EB

Demolition and replacement of four bridges:

Live Oak Drive over the Beltway
Georgetown Pike over the Beltway
Old Dominion Drive over the Beltway
495 GP NB over DTR EB to 495 NB EL & GP

New Express Lanes flyover ramp structures at:

GW Parkway WB to 495 Express Lanes SB
495 Express Lanes NB to GW Parkway EB
Dulles Toll Road (DTR) EB to 495 Express Lanes NB over Dulles Airport Road (DAR)
Dulles Toll Road EB to 495 Express Lanes NB over DTR/495 GP NB

Modification of two existing bridges:

495 over Scott's Run Creek (widening)
George Washington Parkway over the Beltway (rehabilitation)

Conversion of the existing GP shoulder lane use to Express Lane shoulder use during peak periods.
Comprehensive Traffic Management System (TMS), including the following Intelligent Transportation Systems (ITS) components: dynamic message signs, microwave vehicle detectors, closed-circuit television cameras, automated incident detectors, lane use management devices and supporting infrastructure (e.g., fiber optic communications network, power, controllers, cabinets, etc.) and associated computer systems and software updates.
Integration and commissioning of the ITS/TMS into the centralized computer system 
Signage and ITS enhancements on local approach roadways to I-495. and
Construction of required noise barrier walls along the Project corridor (and connecting roadways, where applicable).
All roadways include the supporting disciplines elements such as utility relocation, pavement design, and markings, barriers / guardrails, drainage, signs, lighting, signals, landscaping, etc. 
A full description of the scope of work and requirements for the Project is provided in the Project Technical Requirements as apart of the RFP.  The Project Technical Requirements may be revised or modified during the RFP process.
Procurement Timeline: 
RFQ – January 7, 2020 
RFP – April 15, 2020
Contractor Selection – September 25, 2020 
RFQ
Transurban will be conducting a two-stage procurement for a fixed price design-build contract.
The RFQ was released on January, 7 2020 and a copy of the base RFQ can be found here. The full RFP (attachments, information package, etc.) is only available to registered companies. 
If you would like to register to participate in the RFQ, complete the 'NEXT_RFQ_REG_Form_Deadline_2020-01-02'  form and return it to Transurban Procurement at NEXTProcurement@transurban.com by 3:00 pm on January 2, 2020, to ensure you will receive the RFQ on the release date. Any forms received after this date and time could delay your receipt of the RFQ.  
Transurban hosted an RFQ Project Information Meeting on January 14, 2020, at 10:00 AM.  The presentation and sign-in sheets are available here.
Point of Contact
For questions about the Project design-build procurement, please contact the Transurban Procurement team at NEXTProcurement@transurban.com.